Plan:
Business
Visit HostGator
, Ranking
190
points
HostGator shared hosting was offering by HostGator hosting solutions provider, Business is a name of shared web hosting plan offered by HostGator, HostGator Business Linux shared web hosting plan is used cPanel control panel for customer interface and administration, this Business is cost you $11.96 USD per month if you go 12 Months payment deal. HostGator provided unlimited space, unlimited monthly traffic and unlimited domains hosting. 1webhostreview.com is also provides HostGator Uptime Monitoring information, we're start monitor HostGator since Fri, 31-Oct-08, so HostGator is monitored for 10 years 16 weeks 4 days 23 minutes where HostGator average uptime is 99.9%, weekly uptime is 100% and average response time is 0.1643 second.
General features

Unlimited Web Space, Unlimited Monthly Bandwidth, Price $11.96 (12 Months), Unlimited websites hosting .

Support Scripts

PHP 4 or 5, Custom php.ini, PHP savemode=off, PHP Flag manager, PhpMyAdmin, ASP, CGI, CGI libraries, Perl5, SSI, Python, Ruby on Rails .

Databases

Unlimited MySql, PhpMyAdmin .

Email

Unlimited POP3 email accounts, SMTP, IMAP, email forwarder, Form-mail script, email Web-based, Catch all email accounts, Auto Responders, mailing lists, email filter .

Tools/Utilities

Files Manager, User Panel(cPanel), Demo control panel, Website builder(Site Studio), Web space statistics, Bandwidth statistics, Custom error pages .

Uploading

Unlimited FTP accounts, anonymous FTP supported, Dreamweaver upload supported, Upload via web browser .

Supported file types

Steaming Audio Steaming Video .

Pre-Scripts installer

Fantastico pre-scripts installer, Blog = b2-WordPress-pMachine Free-Nucleus-b2evolution, Wiki = TikiWiki-PhpWiki, Image Gallery = Gallery-4Image-Coppermine, Ecommerce = OS Commerce-Zen Carf-CubeCard-Agoda, WebBoard = PHPBB-SMF, FAQ = FAQMasterFlex, CMS, Hosting Tool, Moodle, Counter, Guest Book, Poll = Advanced Poll, HelpDesk, Calendar =WebCalendar .

Accessibility control

Password protection directory, IP Manager, URL without WWW enable, Hotlinking protection, Error Log, .Htaccess .

Additional offers

, Money back guarantee .

Support

24/7 support team, Live support, On call support .

Free promotes

$50 Microsoft AdCenter-$50 Yahoo! Search Marketing .

Infrastructures

UPS, Own Data Center, FireWall, Backup power generator, OC48 network .

Uptime Review

Long run HostGator Review Overall Uptime 99.9 %, Weekly uptime = 100 %
HostGator Average response time = 0.1643 s, Since Fri, 31-Oct-08(10 years 16 weeks 4 days 23 minutes ).
HostGator Daily/Weekly Uptime, Response Time and Reliability Review.

1st/ Thu, 14-Feb-19

HostGator, Daily Uptime = 100 % , HostGator Response Time = 0.1299 s..

2nd/ Fri, 15-Feb-19

HostGator, Daily Uptime = 100 % , HostGator Response Time = 0.1328 s.

3rd/ Sat, 16-Feb-19

HostGator, Daily Uptime = 100 % , HostGator Response Time = 0.1857 s.

4th/ Sun, 17-Feb-19

HostGator, Daily Uptime = 100 % , HostGator Response Time = 0.1326 s.

5th/ Mon, 18-Feb-19

HostGator, Daily Uptime = 100 % , HostGator Response Time = 0.2333 s.

6th/ Tue, 19-Feb-19

HostGator, Daily Uptime = 100 % , HostGator Response Time = 0.145 s.

7th/ Wed, 20-Feb-19

HostGator, Daily Uptime = 100 % , HostGator Response Time = 0.2323 s.
HostGator review: Business plan.
About HostGator : HostGator.com, providers shared, reseller, and dedicated web hosting solutions. based in Houston, Texas, the company was founded in 2002 by current President and CEO Brent Oxley. Hostgator provides with more than 5,000 servers, over one million domains hosted by HostGator and more than 150,000 customers make up approximately 1% of the world's Internet traffic.
HostGator Reliability : Every web hosting plan comes with a 45 day money back guarantee, 99.9% uptime guarantee, and is fully guaranteed by the owner himself. If you ever have a problem with regular support.
Hostgator Server/Infrastructures :Hostgator used the fully redundant Certified Cisco Network featuring 10 backbone providers.
Host Gator has chosen The Planet to provide its customers with superior network connectivity with minimal required downtime. Located in Dallas, Texas, The Planet's Data Center boasts over 35,000 square feet of raised floor space featuring state-of-the-art security, safety, and cooling systems and is second-to-none in the industry
Hostgator Control Panel : Hostgator utilizes CPanel, the no. 1 of web hosting control panel which is a very widely used control panel with customised for more customer usability.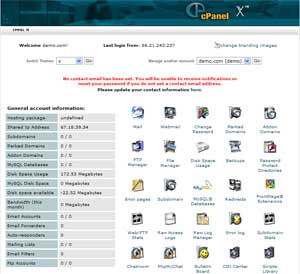 HostGator Unique visitors history graph

Hostgator Support : Hostgator have their own inhouse staffs, and is ready to assist you no matter what time or day of the year.
Contact via phone : 1-866-96-GATOR (1-866-964-2867) 24/7 sales and support line 1-713-574-5287, Fax Billing: 281.476.7800 Abuse: 281.476.7801, Hostgator is also provided the Online Chat for realtime customer communication service.
Postal addeess : HostGator.com
11251 Northwest Freeway, Suite 400
Houston, TX 77092
United States of America
Compare HostGator Business plan VS :
There is no customer's review for HostGator, Business plan yet.